Homeowners
Insurance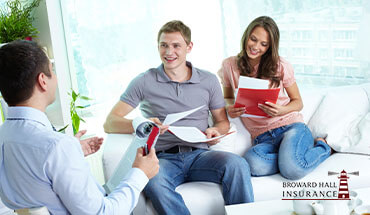 Contact Agent (850) 769-4828
Broward Hall Insurance Agency will help you to achieve the best protection. We have handled claims from hurricanes to house fires, from baseballs trough windows to theft and vandalism. We will be there to assist when you need us.
Hosting multiple homeowners markets gives our agents the opportunity to find the right company to fit your specific property coverage requirements.
Whether you are an existing homeowner shopping for a better rate, or a new home buyer, we will help you to facilitate binding your coverage, communicate with your mortgage company, and guide you through the inspection process should any be required. Let's get started today.


Owners Insurance

Owners insurance is generally discussed as basic form (HO-1), broad form (HO-2) and special form (HO-3). Coverage can be for the structure only or it can include the contents (your personal property) and/or living expenses in case the structure is unsuitable for occupying.

Renters Insurance

Renters insurance is discussed as contents broad form (HO-4). It's a variant of the HO-2 coverage and geared towards those who rent rooms, apartments, or houses. It covers the insured's personal property that is within and outside the structure. HO-4 will typically includes liability insurance for damaged property and for injuries to the other people in the property.

Modified Insurance

A modified home insurance policy (HO-8) is one of the most basic insurance policies offered since the average homeowner that purchases this policy does do because their home is over 40 years old and does not meet all of the requirements needed to underwrite a HO3 policy. The details of the policy are similar to those of an HO3 policy, simply modified to meet the needs of the older home.
Contact Us For Free Help
How does the insurance company determine the Replacement Cost of my home?
Your home is probably the single largest investment you'll ever make. By insuring your home, you are helping to protect your investment and your equity.
Estimating your home's value is how the insurance company determines the amount of insurance required to adequately cover your home. The primary factors that will determine the cost to rebuild your home include:
♦ Local construction costs and the square footage of the structure
♦ The type of exterior wall construction – frame, masonry (brick or stone) or veneer – and the type of roof
♦ The style of the house (ranch, colonial)
♦ The number of bathrooms and other rooms
♦ The latest building codes in your community. If your home is severely damaged, you might have to rebuild it to comply with new building code standards which may require a change in design or building materials
♦ Improvements or additions to your house
♦ Attached garages, pools, or other outbuildings
Replacement Cost is not the equivalent of Market Value. The cost of rebuilding your house may be higher than the price you paid for it or the price you could sell it for today. Additionally, some banks require you to buy homeowners insurance to cover the amount of your mortgage. However, Replacement Cost is not based on your loan amount, but what it costs to rebuild your home, should you have a total loss.
What kind of protection do I need against liability claims?
Nothing is worse than the feeling you get when you are responsible for damage to someone else's property or for someone else's injuries. This is why personal homeowners policies typically include liability coverage.
This coverage protects you and your family against property damage or bodily injury claims for which you are legally responsible. Liability insurance covers you, for example, if someone slips and falls on your property or if your dog bites someone.
Today, when multimillion-dollar lawsuits are common, your homeowners policy may provide substantial liability limits..
How can I receive credit on my homeowners premium?
There may be things about your home that help reduce the risk of damage to the structure.
Central Burglar and Fire Alarm Systems that are centrally linked to local emergency response centers. Have your alarm monitoring company send a certificate of service to your agent to redeem your credit.
Interior sprinkler systems for fire prevention. Have your sprinkler servicing company send a copy of your most recent annual inspection to your agent.
Wind Mitigation Credits. A Uniform Mitigation Inspection may report features of your home that can earn you discounts on your premium. Mitigation features may include things such as:
♦ Age of our roof (replacement after 2002)
♦ How your roof is attached to the building
♦ Roof to wall connections
♦ Secondary water resistance
♦ Hurricane shutters or shatter resistance windows
♦ Shape of your roof (Hip vs. Gable)
Is flood insurance included in a homeowners policy?
No. Protection against flooding is never included in a homeowners policy. Flood Insurance is a federal program that must be applied for separately. Water damage, however, (such as a burst pipe or leaking toilet) is covered under most standard homeowners policies.