Commercial Property
Insurance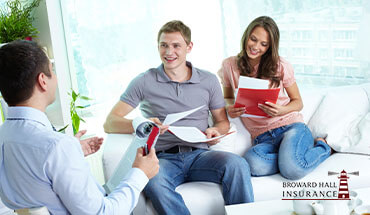 Contact Agent (850) 769-4828
If you are a property owner, you know the importance of protecting your investment with a well-chosen property insurance plan. At Broward Hall Agency, we specialize in providing our clients with plans that address the risks business owners face when they purchase commercial or private property. We help our clients avoid the problems (and financial loss) that come from buying too much or too little insurance protection.
A basic commercial property insurance policy may be all you need. We provide a wide range of coverage for buildings, inventory, equipment, tools and more. Losses from fire, break-in, vandalism, windstorm and other natural or manmade disasters are examples of what is typically covered.


Building

If you own a commercial building, you will want to have enough commercial property insurance to cover the replacement costs if a peril strikes. we recommend that you secure an appraisal from a third party to accurately determine the current replacement cost of your building and match your coverage to it.

Personal Property

Business personal property insurance covers property at a specified location for furniture, fixtures, equipment and inventory. Be aware that most commercial property policies have very limited coverage for property taken off the specified location, so be sure to discuss the details of your business operations with our agent.

Business Income

This type of coverage reimburses a business owner for lost profits and fixed expenses during the time that a business is closed. It applies while the premises are being restored because of damage from an event, such as a fire. Business income insurance may also cover other financial losses, too.
Contact Us For Free Help
Broward Hall Insurance Agency
Broward Hall Insurance Agency was established in 1957 by Broward Hall. It started as a small business in Panama City and grew over 60 years into a full service agency to serve the insurance needs of individuals, families, and businesses throughout Bay and surrounding counties. As the insurance pros, we are experienced in all types of insurance coverage. From auto, motorcycle, boating, recreational vehicles, and life, homeowners, renters, builders risk, to business, liability, workers comp and so much more.
Our objective is to be honest and fair in all dealings, to be focused on each person and their insurance policies, and to service the needs of our clients as if they were our own family. We establish a close relationship with our clients by assigning a personal service agent to each account. This ensures a high level of consistent care of your policies and makes the management easy on you.
Gary Hall, Sr. is the president of Broward Hall Insurance Agency. After four decades of dedication, Broward Hall Insurance Agency is here today providing the same personalized & professional care that would make his dad, Broward, proud. Our entire team is here for you, so let us know how we can serve your needs.