Auto
Insurance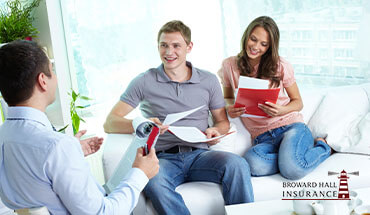 Contact Agent (850) 769-4828
Overwhelmed by all the auto insurance choices? Don't be. Broward Hall Agency makes shopping for auto insurance easy. We'll help you find the auto insurance you need at a car insurance rate you can afford.
We can provide you with car insurance rate comparisons, money-saving tips, discounts, payment plan options and more to make your car insurance rate even lower.
We offer numerous auto insurance options for all legal drivers, including teenagers. From the most basic of coverage to high risk SR-22 policies, our insurance pros will find the best policy for your needs. Contact us today for a free insurance coverage quote or a free policy audit to verify you have the right insurance policy and at the right price, too.


PIP Coverage

Personal injury protection can help cover medical expenses for you and your passengers after an accident, regardless of fault. The state of Florida requires every vehicle with four or more wheels maintain Florida Auto Insurance coverage. The minimum requirement is $10,000 personal injury protection (PIP) and $10,000 property damage liability (PDL).

Comprehensive Coverage

Comprehensive auto coverage protects your vehicle from unexpected damage. If you want to fully protect your vehicle, you will want to include liability, collision and comprehensive coverage on your auto insurance policy. Comprehensive protects your vehicle from losses not covered with other policies such as damage or loss due to theft, vandalism, falling objects, fire, storms, flood and certain natural disasters.

High Risk Coverage

High risk insurance is required when a less-than-perfect driving record catches up with you. If you have multiple speeding tickets, more than 6 points on your driving record or DUI/DWI convictions, you would be classified as a high risk driver and need specific insurance requirements.
Contact Us For Free Help
Why do car insurance premiums change?
Auto insurance premiums change for the same reasons that the price of other goods and services you buy change.
Insurance companies incur the same costs you do in buying goods and services, and these costs can ultimately affect your insurance premium. Costs affecting the ultimate price of Auto insurance include:
♦ Medical costs to treat injuries
♦ Auto repair costs
♦ Costs to adjust claims
♦ Inflation
♦ Uninsured drivers (carrying the appropriate coverage, your policy will pay when the other driver doesn't have an auto insurance policy)
Although insurance companies can't directly control these costs, they are regularly monitored to see how they are affecting the costs of the claims the companies pay. As they change, auto premiums must be adjusted. These costs can affect your auto insurance premium whether or not you personally have had an accident or claim. Changes you make to your auto insurance policy or coverage may also change the premium. Adding or removing a driver, buying a new car, moving to a new location or changing how you use your car may influence the cost of your auto insurance.
What deductible should I choose?
The higher the deductible, the lower the premium – but the more you'll pay out of pocket in case of a claim. The lower the deductible, the higher the premium – but the less you'll pay if you have an insured claim.
Does the kind of car I drive influence my Auto insurance rates?
The car you drive can have a substantial impact on your Auto insurance premium, especially the amount you pay for your comprehensive and collision coverage. The insurance rates for comprehensive and collision coverage are determined by looking at the type of vehicle loss history – how often it is stolen, and how costly it is to repair or replace after an accident.
Can other people drive my vehicle?
Other people may drive your vehicle with your permission. It is important that they be listed on your policy if they are regular drivers of the vehicle or live in your household. However, anyone who borrows your vehicle is responsible for their own injuries should they be involved in an accident. It is always a good precautionary measure to confirm that any person who drives your vehicle is insured.