Commercial Vehicle
Insurance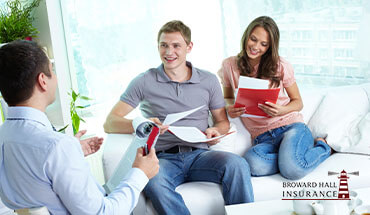 Contact Agent (850) 769-4828
At Broward Hall Insurance Agency, we can create a commercial auto insurance package tailored to the specific needs of your company. The correct policy will serve as protection against liability for bodily injury and property damage relative to your ownership, maintenance, or use of vehicles involved in doing business in Florida.
Trucks, buses, limousines, and other types of vehicles can all be covered with an affordable insurance policy. Your business may also want to include non-owned and hired auto liability coverage for vehicles your employees use or that you rent or borrow for business purposes.


Complete Coverage

Next to your employees, your commercial vehicles are an essential part of your business operations. They allow you to provide exceptional care to your customers and safety to your workers. Road conditions, weather and other drivers on the road are often beyond your control, which is why you need a commercial automobile insurance policy to help protect your business in the event of an unexpected accident. We understand these perils and know how to protect you and your business with a complete commercial vehicle insurance policy.

Fleet Transportation

When your business owns more than five vehicles, it can be classified as fleet transportation and we can help you get better coverage for less money with a volume discount or special commercial auto insurance rate consideration.

Non-Owned/Hired

If you rent, borrow and use someone else's vehicles for your business purposes or if you have your employees use their vehicles, you need an insurance policy that fully protects you in the event of an accident.
Contact Us For Free Helpa
When do you need Commercial Auto insurance?
A commercial auto policy is needed if employees operate the vehicle or if the ownership of the vehicle is in the name of a corporation or partnership. Also, if you are using your vehicle to transport goods or people for a fee or if you use your vehicle to conduct a service you are required to carry commercial auto insurance. You might also need a commercial policy if you need higher limits of liability because of the nature of your work.